Phoenix-based artist Riithareal has quickly made a name for herself in Hip Hop. Since dropping her first official single "The Movement" in November, Riithareal has already amassed over 300k views on YouTube. Her polished flow and outstanding versatility are what make one of the best up-and-coming acts from the Southwest.
What's up Riithareal? How has 2021 been treating you so far?
2021 has been amazing, it felt so good coming into the new year as a new artist with some momentum. Before last year my music wasn't available on any platforms, I had no music videos out and had a very small fan base, mostly people who have followed me, via social media, and knew I rapped and wrote songs. So it's been exciting and I'm so thankful for my listeners.
How did you decide on the name Riithareal?
I've been rapping since I was around 4. When I got to high school I started to be more open about it and came up with the name CheenaSoFlossy and I started posting freestyle videos on YouTube. People really started following and tapping in, but life threw a lot of curveballs at me, which redirected my focus, and so I took a break. Through all of the bullshit I always kept it real. To others and to myself. My name is Riane pronounce Ryan but people always called me Rii so I combined the two and got Riithareal, Rii tha realest ayeeee.
What's the Phoenix music scene like? Are there any other PHX artists that we should be looking out for?
The Phoenix music scene, in my opinion, is still looking to establish itself on a national level. There's only like 6 other artist, in the area, that I'm familiar with that actually invest into themselves and their music and take it seriously. It's one thing to say "oh I rap" or "I got vocals" but to actually put your whole life and energy into this, is a different beast. It's not easy, it takes a lot of work and I'm proud of anyone who is brave enough to chase their dreams and put their art on display. Knowing it will be criticized but also knowing your words, and your music can get people through all types of situations, is priceless.
You attribute your passion for music to your mother. Could you go into more detail on that?
I actually attribute my passion for music to mental health. My mom is amazing and supports anything I do but mental health really led me to have a strong connection and love for music. When I was a preteen, I was diagnosed bipolar. I didn't trust people with my feelings so I would write and turn my pain into poetry. Which ultimately helped me through tough times and if I can assist just one other person with my music, then I'm happy.
There's a true level of realness/authenticity that I could hear in your voice on "Back To Her." Is it difficult making music based on tough personal experiences like that?
First of all thank you, I really appreciate that. To answer your question, YES. It is so hard. I wrote back to her during a very painful time. The lyrics in my latest song "Back To Her" are 100% true. That was a real situation and being in the studio having to relive those emotions continuously is really hard especially when you're trying to move on but in the same sense it helps me move forward. I took a dark situation and brought it to light.
Making the decision to pursue music can be tough for some. Was it a hard decision for you? Describe the feeling that went through your mind when your debut single hits over 100k views on YouTube.
Making the decision to dedicate the majority of my energy, my time and my money isn't necessarily hard because I'm getting to do what I love, it's just a lot of work. I'm a firm believer that nothing good comes easy so best believe I'm busting my ass 24/7 to make my dreams a reality. Music is what makes me happy. It's always been my passion and having the opportunity to get it out there and acquire loyal listeners that love and support what I'm doing is more than a blessing. When I released my first video back in November 2020, it was my first song ever released on all platforms and as my first project I thought I'd be lucky to get 50k streams. So hitting 112k was crazy I was so lit! And then the next drop did 150k so it's just amazing and pushes me to keep going harder and harder.
How has COVID affected you as an artist?
Covid-19 has transformed our world and impacted people in unimaginable ways. People are out of work, struggling, getting sick, losing loved ones. I feel like music is medicine to so many people, no matter what genre. People are still listening, streaming, and watching. Maybe even more so during these difficult times. I will say it has affected music video shoots because certain places are closed at the moment as well as shows and performances which I can't wait to experience but it's a weird time right now.
What would be your pitch to entice someone to check out your music?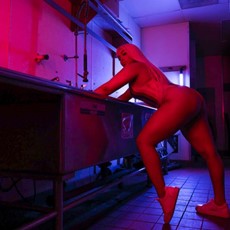 My pitch to prospective listeners would be however you're feeling right now, I got something for you! You feelin lit, want to turn up and shake something or get lit in the car I GOT YOU! But if you wanna get sexy and vibe out or if you're going through something and need a relatable song, I GOT YOU. I'm versatile and in a world where a lot of music sounds the same, I'm proud to break the mold and try different things.
What can we expect from Riithareal in 2021?
2021 be ready for my first ever EP. I've been working really hard on that and it will feature a taste of my different styles of music. I've got so much music in the vault that I can't wait to share. More visuals, more opportunities & more success. Interviews and shows will be happening this year as well and I'm going state to state with it so book me in your state and let's get it poppin!
Watch Back To Her: