Chicago native Kennyflowers is a songwriter and producer hot off the release of his latest single "Libido." The melodic single is irresistibly catchy and it drove me to check out the rest of Kennyflowers' catalog. Diving deeper, some of his standout tracks for me were Butterflys & F***boy, as well as his breakout hit "Fireball" which has accumulated over 640,000 streams on Spotify alone. He also has two great projects in his 2019 project Joat and his Lbh EP that dropped earlier this year.
After listening, I have become a big fan of Kennyflowers' and his unorthodox approach to making music, so I was excited to get the opportunity to feature him.
---
Hey Kenny, how's the reception been from your latest single Libido so far?
Definitely has been going well!! People are giving good feedback!
What inspired you to write "Libido?"
My personal experience dealing with my libido and how it affects the dynamic of my relationship with my significant other.
Judging by the new single, and past tracks like "Tied" & "F*****y" you seem like a very fun artist with a lot of personality–a natural entertainer–outside of music do you do anything else as far as entertainment? Plays, standup, skits, etc.
I sometimes make Tik Tok videos for fun when I'm bored. I do want to get into standup comedy. I have a few written bit concepts on my phone.
How calculated are you when it comes to rolling out new music? Is it difficult to find the balance between having fun making music and working towards building a career as an artist?
It is super easy because creativity isn't supposed to be forced. All I have to do is just live life and let ideas come to me whenever I'm idle.
I find it extremely impressive that you taught yourself how to play piano. What was the driving force behind your decision to learn? Do you still play?
I had a lot of chords in my head and I wasn't going to wait for somebody who is musically literate to play them for me, so I learned how to play them myself. I am still musically illiterate, but I can still sort of play by ear and play what I want to play without reading music.
Can you explain what "Kennyflowers LBH Screenplay Genesis" is?
That is an "NFT". I wanted to list my screenplay as a non-fungible token to see if anyone would be willing to invest.
We hear about the mainstream Chicago music scene all the time, what's the indie scene like? Any notable artists we should have on our radar?
The indie scene is growing rapidly. "Boomanforever", "Ausar", "Fatboyrelic" are some of many artist who are a part of this Chicago renaissance.
What would be your pitch to entice someone to check out your music?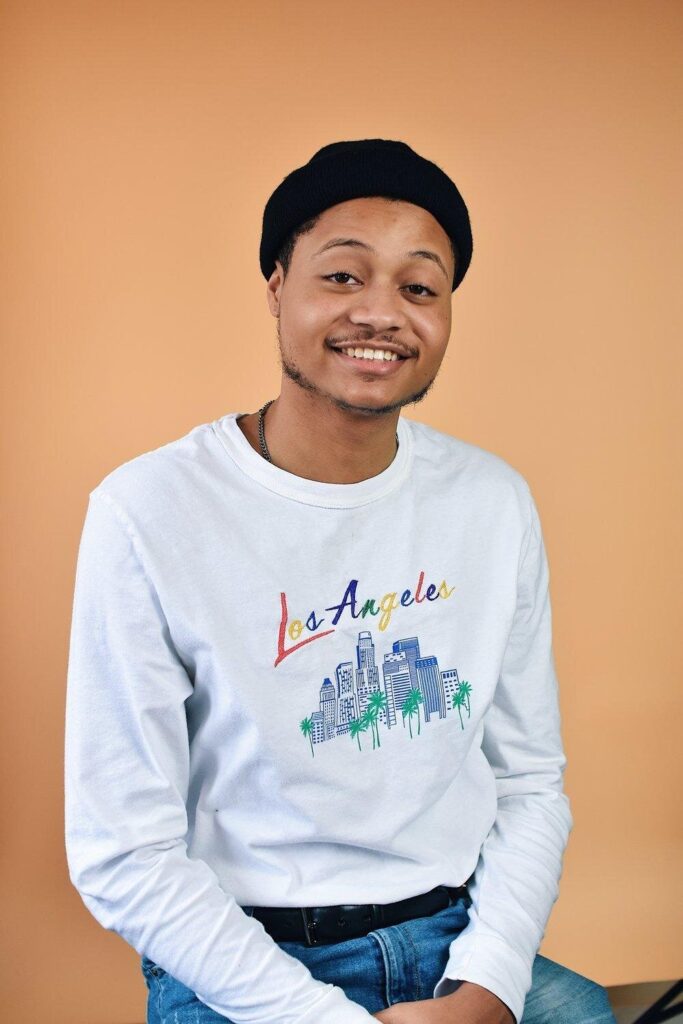 Hello!!! My name is Kennyflowers, an up-and-coming Chicago Artist who is just trying to push a contrasting narrative through my music! I can't sing but I love to sing. As an x rapper, my niche is "his voice is amazing for a rapper" My personality and content is a very important aspect to my music!!
Before it's all said and done, what do you hope to accomplish as an artist?
I want the awards. The Grammys! I just see that as a way to establish my career as an artist.
While Kennyflowers may not consider himself to be a good singer, I argue that his vocal ability surpasses most polished vocalists. Where a strong vocalist might overtake an instrumental, he has the tremendous wherewithal to let the beat guide where he takes his melody. Kennyflowers' talent for making care-free, great sounding, songs leads me to believe that he is on his way to that Grammy.
Follow him on socials: