Although Dublin-based beatmaker Odd Numbers emerged into the scene very recently in 2020, he is already making major plays not only for himself, but for many other local acts as well. So far, in my opinion, the only Irish rapper to break has been Rejjie Snow, but as a huge fan of Snow I may be a bit bias. Odhran O'Brien a.k.a Odd Numbers is doing noteworthy and commendable job of changing that. In 2021, Odd Numbers received funding from the Ireland Arts Council with helped him release his debut album The Golden Éire Tapes Vol. 1. The album received widespread acclaim, showcasing an eclectic mix of some of Ireland's most prominent artists and some more underground acts.
Continuing on his mission to better his community, Odd Numbers kicked off 2022 reuniting with Wallfella for their politically-charged song "Step Back." The single examines politics and the mental health system within Ireland. I'm really excited to have gotten the opportunity to speak with Odd Numbers about the new single and much more.
---
I want to start off by commending you for what you've done within Ireland's music scene. How was the reception of your debut album The Golden Éire Tapes Vol. 1?
Thanks so much Darian, I really appreciate that! The reception was really good. People seemed to dig it and appreciated what I was trying to do with the album, which was really important to me. I feel it helped me wedge my foot in the door of the local scene too, which is great. Everything I've done so far has been completely DIY – from the recording and production, to the PR and marketing – so in a way it showed me I don't need a label or publicist to help me get to where I want to be. Knowing that I can get my music to a Hip-Hop blog in Texas without a representative, for example, is very cool. Needless to say, the funding from the Arts Council really helped propel the project forward so I'm eternally grateful for their support.
Aside from the 17 talented artists featured on The Golden Éire Tapes Vol. 1 who are some other notable Irish Hip-Hop artists/producers?
Oh man, the list really doesn't end. Our MVPs include Kojaque, Denise Chaila, and Rejjie Snow who are really pushing boundaries and crossing borders with their music. I'm keeping a close eye on Flynn Johnson, Biig Piig, Why-Axis, and Ahmed, with Love to name a few, as they're all artists I'm keen to work with in the future. On the producer side, Willhouse, Jar Jar Jr., and The Main Event are all making big noise across Ireland. It's great to see everyone succeeding in their spaces – the scene is growing exponentially here and I'm a firm believer that a rising tide lifts all boats.
What's your music making process like? How do you decide what artists would fit best on a beat?
I'd love to say I had a really profound process for making beats. At this stage it feels more like throwing things at the wall and seeing what sticks. Sometimes I go into it knowing what sound I want to make and who I'm making it for, but mostly it's just trial and error. It's still early days for me though – I only started releasing music in 2020 – so I'm allowing myself the time to figure it out.
What kind of music did you grow up listening to? What inspired you to start creating music?
I find it so funny that I'm making Hip-Hop music because it never would have been evident looking back at my old listening habits. I grew up in the sticks so my exposure to music was limited to my guitar teacher, my parent's pop/rock record collection and whatever music was charting on the radio. It wasn't until my mid-teens that I got introduced to Hip-Hop and from there I was hooked. It started off with Mac Miller, Odd Future, and Kid Cudi, and from there I gradually made my way down the timeline to the likes of ATCQ, De La Soul, and OutKast. When it came to actually creating music, that only happened when I was trying to choose a college course. I knew I wanted a career in the music industry so I dove into a Music Production course without any real experience or idea of what I could do after it. It was a risk but thankfully I trusted my gut, otherwise I'd probably be in teaching right now!
Aside from producing, you also advise indie artists on how to effectively market and promote their work. What's a common mistake that independent artists make? What's the best piece of advice you would offer to an up-and-coming producer? Lastly, if you don't mind saying it, what is one thing you wish you had done differently since starting your music career?
I love this topic so much, at the risk of sounding like a complete nerd. I dove into music marketing very early in my career because I was sick of the crickets whenever I put music out. Like so many other artists, I had a bit of a chip on my shoulder about not getting heard. That's something I learned to let go of, but it's also the biggest issue I see with emerging artists right now. The mindset of releasing music and believing you're somehow entitled to listeners and engagement is so damaging; there are over 60,000 tracks uploaded to Spotify every day, what makes anyone so special?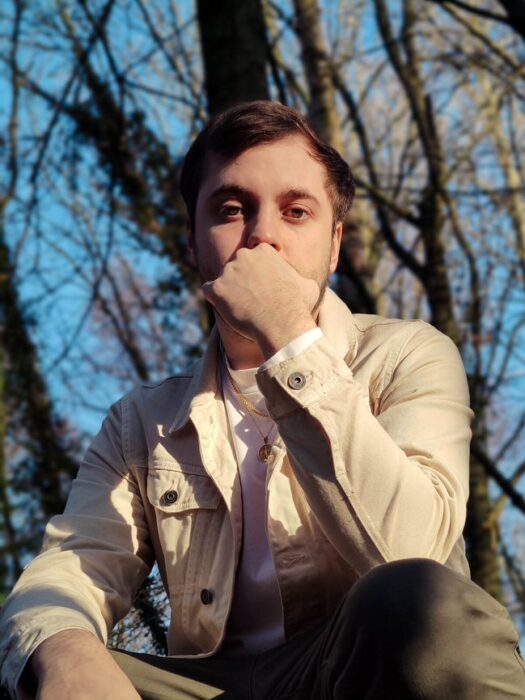 My advice to anyone in this position, whether you're an artist or producer, is to take the time to learn as much as you can about the music industry and how to get your music in front of the right people. Releasing music isn't reason enough to draw people in, you've got to give them a reason to invest in you.
On your latest single "Step Back," you reconnect with Wallfella. What's it like working with him?
Wallfella is so incredibly sincere and humble both as a person and an artist, which makes working together so natural. I sing his praises where ever I go but it's for good reason; he's such a diverse rapper and isn't afraid to experiment with different sounds. I've only met the dude three or four times now because of Covid but I can tell he has the drive to make a successful career.
"Step Back" addresses mental health among other issues. Do you have any struggles with your own mental health? What are your thoughts on therapy?
I'm extremely lucky to never have had much of an experience with mental health issues. I know how common it is amongst artists as we tend to put a lot of undue pressure on ourselves to constantly be present, whether it's releasing music or posting on socials. It's so easy to burn out so I've always tried to put my head first and take breaks whenever necessary.  Therapy is a fantastic resource and one that everyone should utilize at some point in their lives. Unfortunately, in Ireland, we're suffering from a hugely underfunded mental healthcare system so even those whose desperately need it are on waiting lists for months or years. That's the point we really wanted to drive home with this track – "Abandon mental services then wonder why they went and died."
As an artist, do you feel an obligation to speak on/raise awareness for social justice initiatives?
It's important to me that I try to make a difference. Hip-Hop is political by nature, and Irish Hip-Hop is no exception; it should serve a purpose. I'm well aware that I haven't faced many of the issues tackled on some of my tracks, and sometimes I feel the guilt of promoting an issue that I've not experienced first-hand, but at the very least I feel I should provide a canvas for those using their voice to make a real change.
What's next for Odd Numbers? Can we expect The Golden Éire Tapes Vol. 2 to come out this year?
As it happens, I've very graciously been awarded more funding from the Arts Council to put together another body of work this year. I'll be collaborating with more Irish artists but this project will be a lot shorter and a bit more light-hearted so I'll be keeping it separate from the Golden Éire series. Aside from my own music, I'm also in the process of developing a platform dedicated to supporting Irish artists. There's so much talent on our tiny island so I'm using every opportunity to tap into it.
---
What Odd Numbers is doing within Ireland's Hip Hop scene and the country as a whole is something that can only be championed. With his talent behind the boards and artist-first mentality, I see nothing but success for the rising producer. Stay up-to-date with Odd Numbers through his website and socials, and be sure to check out his beat store as well, links below.
WEBSITE || SPOTIFY || FACEBOOK || INSTAGRAM || TWITTER || YOUTUBE